Kimberly Biback – 80km Haliburton FOREST Ultramarathon to Save Michael & CURESPG50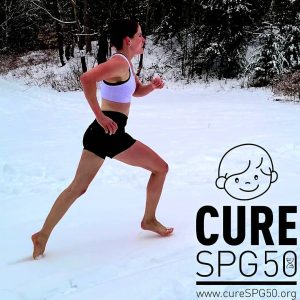 Note from Race Director: All competitors run for a reason whether it is for health, pleasure, comradery or all the above. Some run for a cause. The Haliburton Forest Trail Race Team loves to support our runners and their reason for running. This year is no exception Kimberly contacted us months ago asking if we could help spread the word for her cause and we are happy to do so. Good luck Kimberly.
I first learned about Michael in a news article just over a year ago. Michael, then just two-years-old, had been diagnosed with an ultra-rare neuro-degenerative disease called spastic paraplegia (SPG50). The disease slowly and progressively takes away physical and cognitive abilities. Michael is one of 61 people in the world with SPG50 and the only child in Canada with this condition.
Michael's parents have been working tirelessly to fund gene therapy to cure or at least stop the progression of this disease for Michael and all children affected. By October 2021 they will be ready to start a clinical trial, however, they need as much support as possible to get there.
Having a child of my own, this story hit home. What made this Cause even more compelling to support was the fact that this family, while trying to save their own child, took on many other families with children battling ultra-rare diseases. CURESPG50 is a registered Canadian charity dedicated to finding a cure. It started with Michael and has since been developed to save not only Michael, but many other children like him.
With our society still under the grip of COVID, fundraisers and events remain highly restricted. But we can't let that stop us from doing our part. I have 2 functioning legs and a fully functioning body. Walking is a simple ability we often take for granted. A luxury that Michael may not have if he does not receive the cure in time. I am running 80 km (50 miles) to raise funds to save Michael and many like him. I hope that in doing so, one day I will see Michael share in the ability to move his 2 feet as well.
Every dollar counts. I appreciate all support from the bottom of my heart.
–CURE SPG50 is a Registered Canadian Charity dedicated to research into drug repurposing, gene therapy, protein replacement therapy, clinical trials. Donations eligible for a tax receipt.
–November 18, 2020 – CURESPG50 announced that the FDA has awarded CureSPG50 Rare Paediatric Disease Designation (RPDD). A drug was named "Melpida" – (Michael's Hope); which represents the reason the journey started
-To date, the CURESPG50 charity has raised $3.2 million
-With the current funding, they are on pace to support 3-10 families (who have children battling ultra-rare, life threatening conditions) by the end of this year, in addition to Michael.
https://www.canadahelps.org/en/pages/kimberly-biback-80km-ultramarathon-to-save-michael/