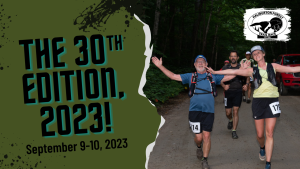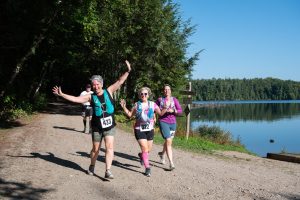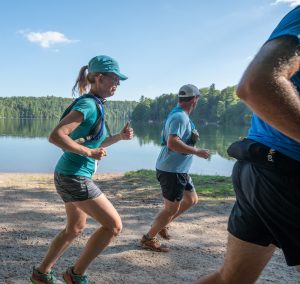 Happy New Year!!
Here is your 2023 Haliburton Forest Trail Race Update.
Registration
Registration will open Monday, January 9th at 12:01 am! Here is the link – shorturl.at/eKM09
We are keeping registration numbers as is with each category capped at 100 runners for now. This may open or shift depending on registration numbers.
Register here – https://raceroster.com/events/2023/71056/haliburton-forest-trail-race-2023
Racecourse
We are investigating a new 50 km loop that will make marking trails easier but no guarantees. When we know we will let everyone else know.
We will continue to run the course in the same directions we did in 2022.
100 milers and 50 milers clockwise (yes aid stations will be counting down 4, 3, 2, 1)
12km, 26km and 50 km (unless we change 50km course), counterclockwise.
Training Runs – Looking for a Lead(s)
Training runs will be hosted Saturday, July 15 and Saturday, August 12. We are seeking someone to step up and be our training run lead. Someone that knows the course and can lead folks through the trail system. Usually this happens on its own, but we'd love to know in advance if someone would like to take this task on.
Group camping will be available for these weekends.
Register for day passes and camping here – https://haliburtonforest.checkfront.com/reserve/?item_id=340
Aid Stations
More pickles and chips please!  We heard you! 🙂
Also, the "water station" along Normac/Northshore will be a bit more stocked with food/snacks but still not considered an aid station.
We encourage racers to bring their own drinking vessels to reduce waste.
Medical
We will welcome back The Sports Lab under Dr. Lowel Greib's direction in 2023.
Special shout out to Corey who has led our volunteer medical team for almost as many years as Helen has organized the race. We are eternally grateful for all the years, tears, blisters, general nasty things she has treated and hope to see her around at future races.
Start/Finish Line – Feedback Required
Within reason we are looking for suggestions of what types of food we can present to folks as they come across the line to help replenish themselves.  Historically we have offered bagels, peanut butter, jam, water, etc… but notice over the last race or two they hardly get touched.  Do we need anything at all? Remember it is not an aid station. Just meant to be grab and go lunches for racers and volunteers. Yogurt, granola bars? Feedback can be sent to hfultra@haliburtonforest.com.
Volunteer!
Interested in volunteering please email hfultra@haliburtonforest.com with as much detail as possible:
What dates and times are you available for? Before, during and after the race.
What are you most interested in – working an aid station, registration, deliveries, handing out medals, marking trails, clean up, set up.
We will then send you to the appropriate volunteer coordinator.
Last year we bought new tents for each aid station, this year we will focus on lighting. A new and more powerful lantern for each station and we are looking into battery string lights.
Course Description
We are hoping to get this posted in the coming months. Don and Gary are on it!
The End!
Have we missed anything? Email hfultra@haliburtonforest.com with any questions or post it in the Facebook Group https://www.facebook.com/groups/33598268550
We look forward to seeing everyone again in 2023!  What a blast 2022 was.
Sincerely,
The Haliburton Forest Trail Race Organizing Team